| | |
| --- | --- |
| | Fédération Cynologique Internationale |
FCI-Standard N° 25
Billy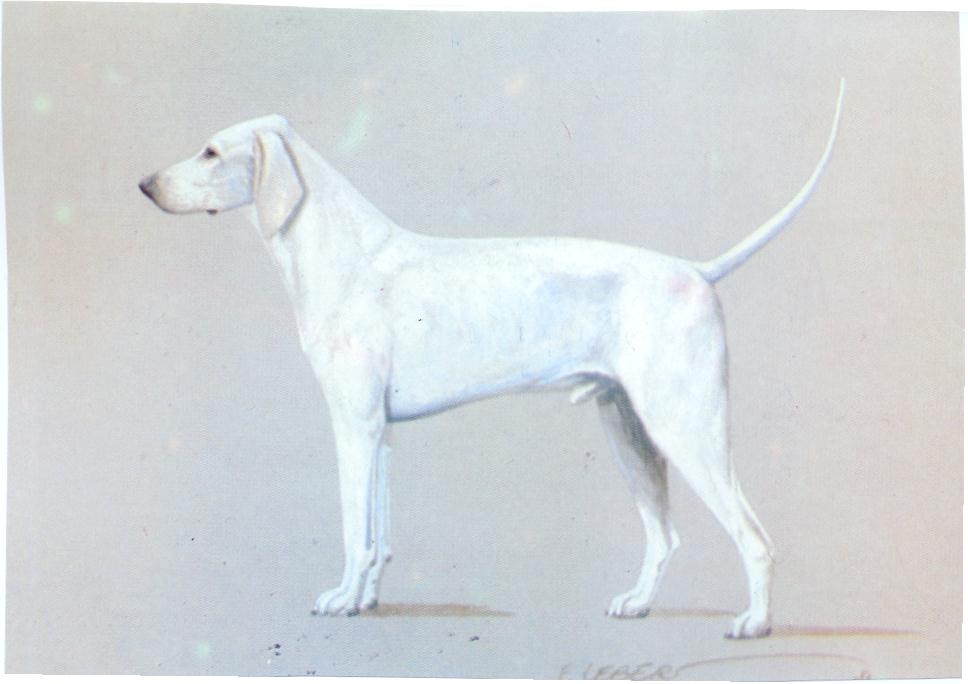 These illustrations do not necessarily show the ideal example of the breed.
The sequence might differ slightly from the original breed standard.
ORIGIN
: France.
DATE OF PUBLICATION OF THE OFFICIAL VALID STANDARD
: 28.12.1973.
UTILISATION
: Hound.
FCI-CLASSIFICATION
:
Group 6
Scent hounds and related breeds
Section 1.1
Scenthounds, Large-sized Hounds
With working trial
TRANSLATION
: Mrs. Kincaid, brought up to date by Dr. Paschoud.
GENERAL APPEARANCE
: Well constructed hound, strong, yet light; forequarters more powerful than hindquarters.
HEAD
: Fairly fine, lean, of medium length.
CRANIAL REGION
:
Skull
: Forehead slightly domed, not very broad; occipital protuberance perceptible.
Stop
: Well defined.
FACIAL REGION
:
Nose
: Well developed, black or red-brown.
Muzzle
: Rather square. Nasal bridge fairly broad; first straight, then slightly arched, moderately long.
Lips
: Slightly or not at all in form of flews, the upper lip covering the lower without overhanging fleshiness; corner of the lips often visible.
Eyes
: Alert, very open and dark, eyerims black or brown.
Leathers
: Of medium size, set on relatively high for a French hound, rather flat, in the lower section turning slightly inwards.
NECK
: Of medium length, rather round, somewhat strong; a slight dewlap is permitted.
BODY
:
Back
: Rather wide, strong, slightly arched.
Loin
: Wide, slightly arched.
Croup
: Sloping.
Chest
:
Chest
: Very deep, quite narrow.
Ribs
: Flat.
Flank
: Fairly long, with a slight tuck-up.
TAIL
: Long, strong, sometimes slightly feathered.
LIMBS
:
FOREQUARTERS
: Strong, vertical stance, flat bones.
Shoulder
: Fairly long, lying close to the chest.
FEET
:
Forefeet
: Well developed, rather round; toes tight.
Hind feet
: See
Forefeet
.
HINDQUARTERS
:
Thigh
: Moderately muscled.
Hock
: Slightly bent, wide and strong.
GAIT / MOVEMENT
: Gallops easily.
SKIN
: White, sometimes with deep brown or almost black spots; supple and fine.
COAT
:
HAIR
: Short, harsh to the touch, often slightly coarse.
COLOUR
: Pure white or milk-cofee white, or white with light orange or lemon patches or mantle.
SIZE
:
Height at withers
:
For dogs 60-70 cm.
For bitches 58-62 cm.
FAULTS
: Any departure from the foregoing points should be considered a fault and the seriousness with which the fault should be regarded should be in exact proportion to its degree and its effect upon the health and welfare of the dog.
DISQUALIFYING FAULTS
:
Aggressive or overly shy.
Nasal bridge too short, too long or too slim.
Pronounced overshot mouth; such a dog must be stristly disqualified; however a dog with a slightly overshot mouth (1/2 cm) has not to be eliminated.
Black or red hair.
Any dog clearly showing physical or behavioural abnormalities shall be disqualified.
N.B.:
Male animals should have two apparently normal testicles fully descended into the scrotum.